Jaunais horoskops jeb 13. zodiaka zīme
Mēs visi zinām, ka ir 12 horoskopu zīmes, visi lasām savu horoskopu. Ticēt vai neticēt - tas protams ir cits jautājums, bet piekritīsiet, ka katrs ir nonācis situācijā, kurā horoskopos ir kā āmurs naglai uz galvas, bet ir brīži kuros viss ir pilnīgi šķērsām.
Tas ir tāpēc, ka patiesībā ir 13 horoskopu zīmes! Kā tā var būt? Labs jautājums! Lai uz to atbildētu, nāksies ieskatīties astroloģijas pasaulē!
Kas ir astroloģija?
Astronomija savienojumā ar padziļinātu zinātni zvaigžņu stāvokļa izpētē veido astroloģiju. Astroloģija nosaka horoskopu zīmes pēc zvaigžņu pozīcijām dzimšanas brīdī, bet astronomija to varētu atzīmēt pēc Zemes atrašanās vietas attiecībā pret sauli.
Horoskopu rašanās pirmsākumi.
Sen senos laikos astronomi vēroja saules pozīciju un zvaigžņu atrašanās vietu, un laiku kamēr zvaigznes nemainija savas pozīcijas (30 dienas) bija tas laiks, kamēr zeme pavirzijās 30 grādus pa ekliptiku (tas lielais riņķis ap sauli, pa kuru virpinās Zeme).
Viss ir ļoti skaisti un viss sakrīt, taču ir neliels bet - precesija, kas šos 30 dienu periodus mazliet pārvieto.
Kas ir precesija?
Precesija ir zemes rotācijas ass virziena periodiska maiņa, kuras cēlonis ir Mēness un Saules, kā arī planētu gravitācijas iedarbība uz Zemes ekvatoriālo paresninājumu. Precesijas dēļ Zemes rotācijas ass ~ 25700 gadu laikā apraksta ap ekliptikas poliem aptuveni konisku virsmu, kuras sfēriskais rādiuss ir ~ 23,5. Precesijas rezultātā pavasara punkts pārvietojas un mainās debess spīdekļu ekvatoriālās koordinātas. Pēdējās 2 ar pus tūkstošgadēs šis punkts ir pārvietojies par 36 grādiem, līdz ar to arī sākuma un beigu datumi horoskopa zīmēm.
Kā tas ietekmē horoskopa zīmes?
Sāksim ar pirmsākumiem, kad visa šī lieta tika izveidota un pierādīta: Pavasara pirmā diena, kad zvaigznes atradās Auna zvaigznājā, tika noteikta par horoskopa apļa sākuma punktu - pirmajiem 30 grādiem periodā ap sauli, pēc tam 30-60 grādi pienācās Vērsim, 60-90 grādi Dvīņiem un tā tālāk.
Bet, tas viss ir mainījies…
Līdz šim, cilvēki , kas dzimuši no 21. marta līdz 19. aprīlim uzskatija, ka pēc horoskopa ir Auns. Tomēr precesijas ietekmē, mūsdienās saule vairs nav Auna zvaigznājā šajā periodā. Patreizējā brīdī no 11. marta līdz 18. aprīlim saule ir Zivs zvaigznājā. Lūk šeit jau ir radusies pirmā nobīde mūsu horoskopu ticībai!
Lūk šis jau ir tas brīdis, kurā Auni, kas dzimuši maksimāli tuvu Zivs robežai, vēl spēj sevī saskatīt kaut ko no tā, kas teikts horoskopā, bet pārējie ir spējīgi teikt: "Nu kas par muļķībām tur sarakstītas!"
Jaunais zodiaka aplisTabula, kurā ir pierakstīti visi periodi, kas izlaboti mūsdienām balstoties uz precesiju.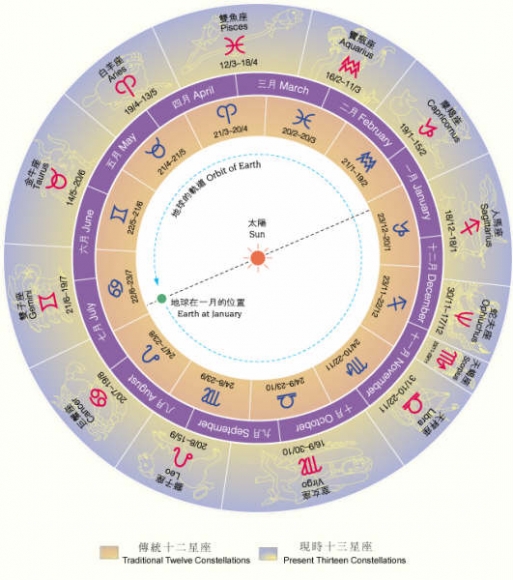 Skatiet pievienotajā attēlā vai lasiet šajā tabulā:
Mežāzis - 20. Janvāris līdz 16. Februāris
Ūdensvīrs -16. Februāris līdz 11. Marts
Zivis - 11. Marts līdz 18. Aprīlis
Auns - 18. Aprīlis līdz 13. Maijs
Vērsis - 13. Maijs līdz 21. Jūnijs
Dvīņi - 21 Jūnijs līdz 20 Jūlijs
Vēzis - 20. Jūlijs līdz 10. Augusts
Lauva - 10. Augusts līdz 16. Septembris
Jaunava - 16. Septembris līdz 30. Oktbris
Svari - 30. Oktobris līdz 23. Novembris
Skorpions - 23. Novembris līdz 29. Novembris
Dziednieks (Ophiuchus) - Nov 29 to Dec 17
Strēlnieks - 17. Decembris līdz 20. Javāris
Skaidri redzams, ka katrai zīmei vairs nav 30 dienu cikls! Un vēl skaidrāk redzams, ka ir parādījusies jauna horoskopa zīme!
Kas ir šī jaunā zodiaka zīme?
Dziednieks jeb Čūsku aizgādnieks (oriģināli - Ophiuchus, grieķu mitoloģijā čusknesis). Tiem, kas pazīstami ar grieķu mitoloģiju, šis tēls jau droši vien ir zināms. Tiem, kas nezina, laiks iepazīties!
Izrādās, tas, ka čūskneša zvaigznājs ir parādījies mūsu zodiakālajā sistēmā nav nekāds jaunums, jo patiesībā čuskneša zvaigznājs ir ļoti sens, to pazina jau senajā Divupē 3000 gadus pirms mūsu ēras.
Senajos horoskopos tas tikts attēlots kā pavecāks vīrs, kurš nes rokās čūsku. Šī čūska ir bijusi apdomības, piesardzības, atjaunošanās, zālīšu pazinējas un gudrības simbols.
Ko vēsta leģenda?
Senie grieķi savā mitoloģijā čūsknesi saistīja ar ārstniecības dievu Asklēpiju, kurš bija gaismas dieva Apollona dēls.
Kamēr Asklēpijs vēl nebija dieva kārtā to audzināja un skoloja gudrais kentaurs Hīrons. Asklēpijs drīz vien savās prasmēs pārspēja savu skolotāju un spēja ne tikai ārstēt, bet arī atdot dzīvību mirušajiem.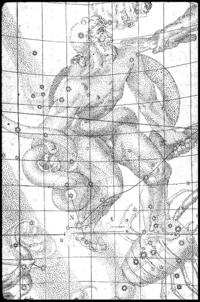 Tas sadusmoja pazemes dievu Aīdu, jo tam tika atņemtas mirušo dvēseles un arī dievu valdnieks Zevs bija saniknots, jo Asklēpijs bija izjaucis viņa noteikto pasaules kārtību, tāpēc ar savu zibens staru Asklēpiju nogalināja.
Par to savukārt sadusmojās Asklēpija tēvs dievs Apollons un lai kliedētu Apollona sāpes un dusmas, Zevs uznesa Asklēpiju debesīs un iecēla ārstniecības dieva kārtā.
Bet…
Protams, neglābjams mīnuss ir tas, ka vispārējā horoskopu pasaule vēl pretojas šim atklājumam, mīnuss ir arī tas, ka šai horoskopa zīmei neviens neraksta ikdienas horoskopus. Mīnuss ir arī tas, ka šai zīmei vēl nav sava oficiālā apzīmējuma.
Nesakritība!? Vai tā tagad būs labota? Izrādās, tas viss ir ne tikai tāpēc, ka ir pierādīta 13 zīmju horoskopa esamība, tas viss ir tāpēc, ka ieiešana konkrētā horoskopu zīmē un konkrēts horoskopa zīmes ilgums ir dažāds.
Tropiskais astroloģiskais gads: Laika intervāls starp divām sekojošām Saules iziešanām caur pavasara punktu. Šajā laikā nomainās visi četri astronomiskie gadalaiki. Tropiskā gada garums ir 365,2422 diennaktis.
Zvaigžņu gads: Laika intervāls, kurā Saule savā redzamajā kustībā pa ekliptiku izdara pilnu apriņķojumu attiecībā pret nekustīgajām zvaigznēm. Zvaigžņu gada garums ir 365,2564 diennaktis. Precesijas dēļ tas ir 20 minūtes garāks nekā tropiskais gads.
Zodiaka zvaigznāji: līdz šim 12 zvaigznāji, kas atrodas zodiakā - Zivis, Auns, Vērsis, Dvīņi, Vēzis, Lauva, Jaunava, Svari, Skorpions, Strēlnieks, Mežāzis, Ūdensvīrs. Zodiaka zvaigznāji aizņem nevienādus ekliptikas intervālus un gadu gaitā ir izveidojuši trīspadsmito horoskopa zīmi.
Katras zīmes atrašanās savā zvaigznājā: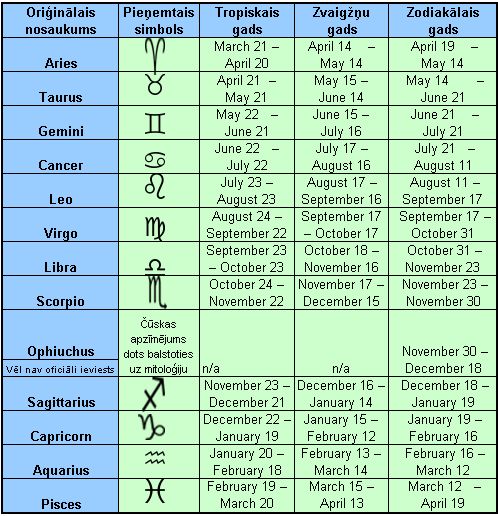 (Raksts pārpublicēts no www.noslepums.com)
<!- google_ad_section_start -> <!- google_ad_section_end ->